Compare and Synchronize MS Access Data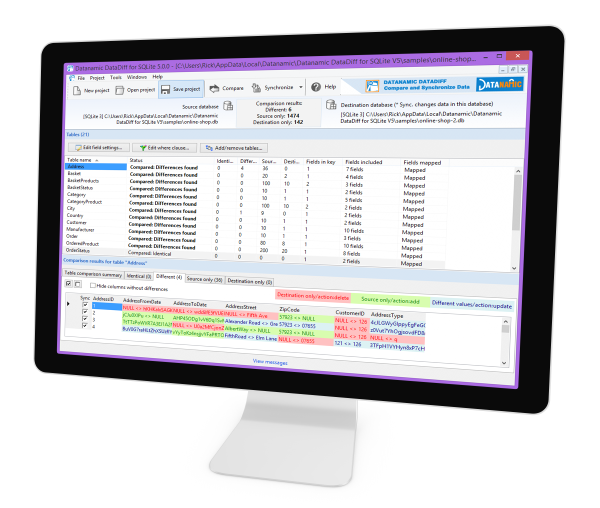 Keep data in two MS Access databases "in sync"
Easily find data differences
Custom comparison keys
Custom mapping features
Saves your comparison plan
Automated data synchronization with included command-line utility
Supports all MS Access data types
Datanamic DataDiff for MS Access is an easy-to-use tool for comparing and synchronizing data in two MS Access databases. It helps you keeping your databases synchronized. You connect to the MS Access databases, select the tables you want to compare, you compare, review the differences, and finally, click "synchronize" to update the data the selected destination database.You can save your comparison plan to a project file so that you can use the same settings again later.
Datanamic DataDiff for MS Access can be used to troubleshoot and resolve errors caused by differences in data. Or use it for synchronizing data, data auditing, verifying corrupt data, data migrations.
Datanamic DataDiff for MS Access offers a quick, easy and reliable way to compare and synchronize MS Access data.
Features
"Intuitive, Fast, Reliable......"
Supports MS Access 2000, 2003, 2007, 2010, 2013 and 2016.
Compare data in two complete MS Access databases or a selection of tables.
Migrate data from one database to another based on differences (synchronize).
Detailed, clear overview of data differences.
Define custom comparison keys.
Compare and synchronize all MS Access data types including binary data.
Automatically or manually map tables and columns.
Save your comparison plan to a re-usable project file.
Export comparison results to CSV files.
Automate your synchronization process with the included command line utility.
Compare columns with different data types.
Partial synchronization: select columns and rows you want to synchronize.
Automatic database structure change detection.
Wide array of comparison options (such as case insensitive, ignore white spaces etc).
Cross MS Access versions comparisons (for example, compare a MS Access 2000 database with a MS Access 2003 database).
Data dependencies are handled during synchronization.
Data filtering with WHERE clause.
Detection of potential synchronization problems.
Very intuitive user interface.
Tech specs
Operating System: Windows 10/8.1/8/7/Vista/XP
Memory: 1 GB minimum (2 GB recommended)
Hard Disk: At least 20 MB of free disk space
Databases: MS Access 2000, 2003, 2007, 2010, 2013