Compare and Synchronize Oracle Database Content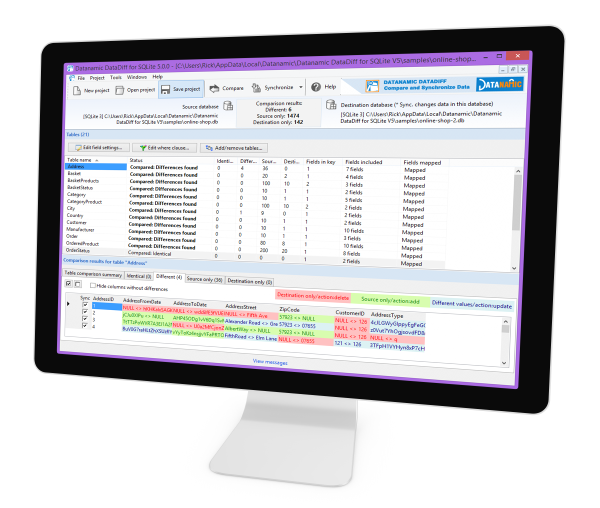 Easy navigation through the differences
Compare and synchronize whole databases or selected tables
Use custom-defined comparison keys
Map tables regardless of their names
Compare tables with different structures
Save your comparison plan to a project file
Synchronize data automatically via command-line utility
Datanamic DataDiff for Oracle is a powerful and easy-to-use utility for data comparison and synchronization. Compare data for selected tables in two databases, view differences and publish changes quickly and safely. Flexible comparison and synchronization settings will enable you to set up a customized comparison key and to select tables and fields for comparison and for synchronization.
What Can Datanamic DataDiff for Oracle Do For Me?
Datanamic DataDiff for Oracle can be used for synchronizing data, data migrations, verification of (corrupt) data, data auditing etc.
Who Should Use Datanamic DataDiff for Oracle?
Oracle database administrators, developers, testers that need a quick, easy and reliable way to compare and synchronize Oracle database data.
Features
Datanamic DataDiff for Oracle compares data in selected tables from two databases. After comparison, you can synchronize. You optionally specify an action for each difference and update the destination database directly or generate a synchronization script. Its intuitive, results-driven interface designed to increase productivity and efficiency when working with Oracle databases, combined with a set of professional functions, allows you to get the best and fastest comparison and synchronization results in just seconds.

Oracle connectivity
Direct access (native drivers) to Oracle. Supported Oracle version: Oracle versions: 11g, 10g, 9i, 8i, 7.3, Oracle XE. Datanamic DataDiff for Oracle does not require Oracle client software installed and can communicate directly with the Oracle server.

Data comparison for several tables at once
You can make a selection of the tables you want to add to your comparison project. In addition you can refine this selection by making a selection of the tables you want to compare right before the comparison starts.

Map tables in source and destination database
Datanamic DataDiff for Oracle automatically maps tables with the same name for you. If Datanamic DataDiff for Oracle is unable to map tables then those tables can be mapped manually.
Map columns in source and destination table
Columns of mapped tables will be mapped automatically. If you want to compare columns in a table and the column names are different, you can map the columns as required. This can be done even if the data types are not identical.

Custom comparison keys
To match rows in two tables, Datanamic DataDiff for Oracle requires a comparison key for each table. A comparison key is automatically selected if your tables contain a matching primary key, unique constraint or unique index. You can also define your own comparison key (any combination of the fields of that table). This means that you can compare tables based on any field (even non unique fields).

Synchronize directly on database or generate synchronization SQL script
After you compare tables, you can either update the destination database to synchronize the databases or export a update script (synchronization script) with insert, update and delete statements. You might want to generate a SQL script so that you or someone else can review it before you apply the changes.

Data comparison across Oracle versions
You can compare and synchronize each Oracle database you have access to. Furthermore, the databases do not have to be of the same version, you can compare between for example a Oracle 11 and a Oracle 10 database.

Validation of compare settings
It is for example possible that a column in a source table allows nulls while the mapped column in the destination table does not allow nulls. Datanamic DataDiff for Oracle will automatically warn you about these kind of potential problems.

Comparison options
A wide array of comparison options (such as case insensitive, ignore white spaces etc) gives you control over how the comparison will be done.

Compare and/or synchronize any field
Datanamic DataDiff for Oracle you can specify at column level what to do with the column in the comparison and synchronization process. You can include or exclude any column for comparison and/or synchronization. This way you can for example synchronize non compared columns.

Export comparison results
You can export all comparison results to a CSV file. You can choose to export identicals, differences, source only records and/or destination only records.

Project oriented architecture
Save database connections, compare settings and the list of tables to compare and/or synchronize.

Option to disable triggers
Sometimes when synchronizing data you do not want a trigger to fire. Datanamic DataDiff gives you the option to disable triggers for the tables you want to update. The triggers are restored after the synchronization process.

Detection of metadata changes
When you refresh the tables in an opened project or when you re-open an existing data compare project, Datanamic DataDiff automatically reads the database and detects when a column or table has changed or has been deleted. It will then automatically apply this change to the table(s) in the project.

Easy navigation through the data differences
A tabbed and colour-coded comparison overview makes it easy to pinpoint at a glance similarities and differences between data in two tables. Inserts, updates, deletions and identicals are displayed in individual tabs.

Data filtering
Datanamic DataDiff for Oracle allows you to compare a subset of records from each table. You can define a WHERE clause for each table in a pair of mapped tables.

Refertial integrity support
Datanamic DataDiff for Oracle handles data dependencies and referential integrity during comparison and synchronization. To speed up synchronization you have got the option to disable foreign keys during synchronization.
Tech specs
Operating System: Windows 10/8.1/8/7/Vista/XP
Memory: 1 GB minimum (2 GB recommended)
Hard Disk: At least 20 MB of free disk space
Databases: Oracle 9i, 10g, 11g, 12