Reliable and Fast PostgreSQL Data Comparison and Synchronization Tool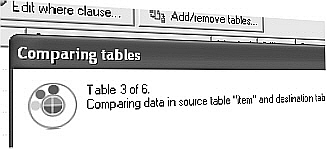 Key Features
Keep data in two PostgreSQL databases "in sync"
Easily find data differences
Custom table and column mapping
Automate data synchronization with command line utility
Datanamic DataDiff for PostgreSQL
is a powerful and easy-to-use PostgreSQL tool for data comparison and synchronization. Compare data for selected tables in two databases, view data differences and publish changes quickly and safely. Flexible comparison and synchronization options allow you to set up a customized comparison key and to select tables and fields for comparison and for synchronization. You can synchronize directly on the PostgreSQL database or generate a synchronization SQL script.
Datanamic DataDiff for PostgreSQL compares your data fast and displays the data differences in a very intuitive comparison results gird. Partial synchronization is supported. You decide what to synchronize. You can select data to synchronize on column level and on record level. Get the full picture of all data differences and keep your databases synchronized in a few seconds.
Save time by automating your data synchronization tasks. Datanamic DataDiff for PostgreSQL also includes a command line utility to further automate you synchronization process.
Datanamic DataDiff for PostgreSQL can be used for data migrations, verification of (corrupt) data, data auditing etc.
Datanamic DataDiff for PostgreSQL can be used by developers, database administrators, testers that need a quick, easy and reliable way to compare and synchronize PostgreSQL data.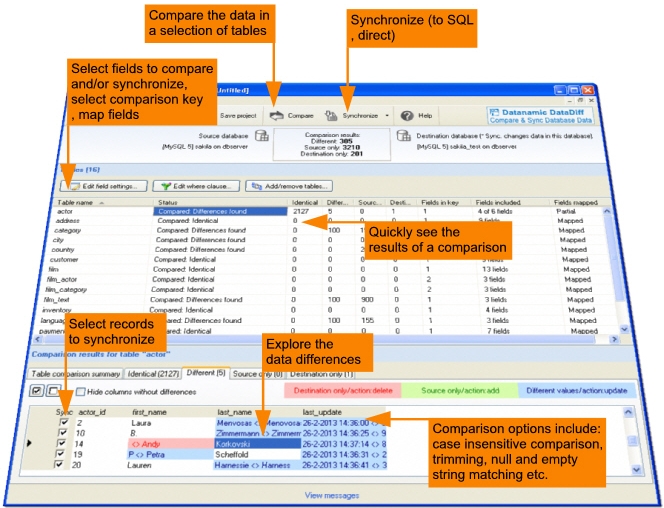 Related Products

Datanamic SchemaDiff for PostgreSQL
Compare and synchronize database schemas.

Datanamic DataDiff CrossDB
Cross database platform (for example: PostgreSQL, MS Access) data synchronization.