What's New in Version 9
DeZign for Databases is better than ever. DeZign for Databases V9 is a major release that provides a more efficient way to work with large data models and much more. This document outlines the host of new features and improvements that help make DeZign for Databases the ultimate database design tool.
Search for Objects in the Object Browser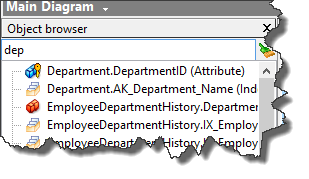 The new object search functionality in the Object Browser lets you find objects fast. Perfect for faster navigation through your data model. Enter some text in the search field and DeZign for Databases lists all the objects in the Object Browser that contain the entered text in their names. The search is done while you type. More complex search actions are supported also. You can do that with Wildcard matching.
Available in all editions.
Improvements for Arranging Objects

Version 9 allows you to rearrange/order diagram objects on the workspace in different layers. Now you can easily layer and overlap objects on top of other objects. Just right-click on the object in the diagram and select the "Format | Level" menu. From there, use the "Send to back" or "Bring to front" menu items.
The auto layout system has been improved also. An intelligent routine will now automatically select the best layout method for large diagrams (more than 500 diagram objects).
Available in all editions.
Full Support for MS SQL Server 2014, SQL Azure and Oracle 12c
The list of supported databases keeps growing. In DeZign for Databases Version 9 we added support for MS SQL Server 2014, SQL Azure and Oracle 12c. DeZign for Databases has been enhanced for new features introduced in MS SQL Server 2014 and Oracle 12c. To support SQL Azure, new definition files are created. You can forward engineer, reverse engineer and alter these databases with version 9.
Forward engineering is available in all editions. Reverse engineering is available in the Professional, Expert and the Teamwork edition.
Multiple Diagrams in a Single Report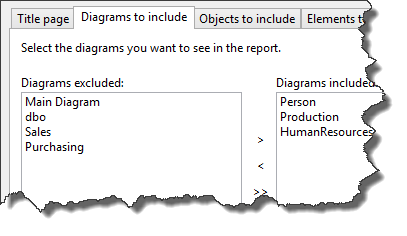 The generating report feature has been enhanced in DeZign for Databases Version 9. Earlier, you could only include an image of the active diagram in a report, but now you can include images of all or a selection of diagrams in the current model.
Available in all editions.
Staying Organized: Sub Folders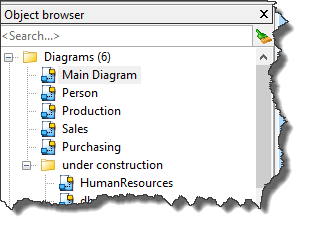 A new feature in DeZign for Databases version 9 is the possibility to create sub folders for diagrams in the Object Browser. Sub folders are the key to staying organized when you have a data model with many sub diagrams. You can rename new folders and drag additional diagrams into the new folders.
Available in all editions.
This list is not complete. Version 9 contains many more new features and enhancements. You can read the complete list of changes in the version history.