Preview Datanamic Data Generator V5
Datanamic Data Generator V5 gives you realistic test data even faster. The interface of this new version has been completely rebuilt. Nothing is the same. Every dialog has been modified and the result is in an even more intuitive application. New generator options (such as synchronized selection) and improved generators give you complete control over the generated data. Use the new "test run" functionality to generate a "subset" of the data for test/preview purposes.
Interested? Then try out the fully functional Preview version. You can try out the preview release for 14 days (see download link below). Expected release date for version 5 is October 2012.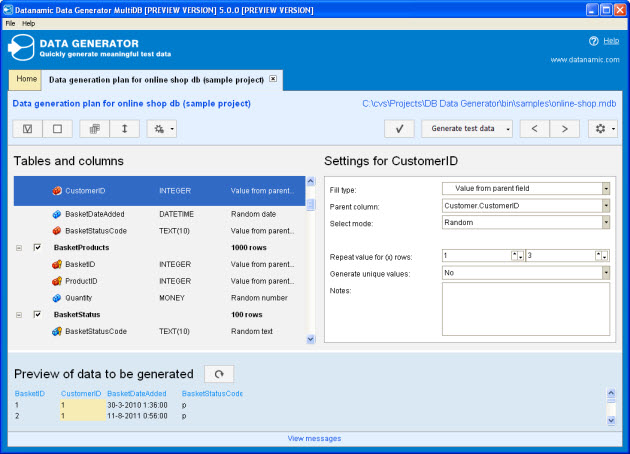 What's New
Complete new user interface.
Multiple data generation plans (projects) can be opened and edited at the same time.
New Home tab/view to organize all of your data generation projects.
From now on you can select the tables you want to populate in the main dialog.
Auto highlight the column in the preview data grid when the corresponding field is edited or is selected.
New "test run" for generating data option. Do a full execution of the plan, or execute only a part (e.g. 10%) of the data generation plan.
Field settings: Added the option for "synchronized selection" to the "select mode" combobox. Synchronized selection is available when your fill type is a table or a view. It means that the cursor in the table/view will not change for each field. If you do not set "synchronized selection", the cursor will be moved each time data is fetched (so for each field).
You can now specify a random or sequential select mode when your fill type is "Value from Parent Field".
The number of generated preview records will not exceed the specified number of rows to generate for that table anymore.
Generated or selected empty strings (for fill type value from lists for example) are now inserted as NULLs by default.
Improved error messages when generation of preview data fails.
Fixed an issue with reading CSV files ending with an empty line.
Fixed an issue with reading the last value from a multi column CSV file.
Added the option to fill a column with an exact numeric data type from a CSV file or from a list.
Use custom filters when selecting the tables you want to add to your project.
Try It Out Now
Download a fully functional 14 day preview version
......and, don't forget to give us feedback. Thanks.
The Datanamic Team