Oracle Tools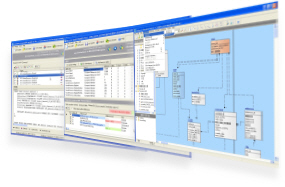 Datanamic provides innovative, robust solutions to empower developers and DBAs working with Oracle databases. These solutions allow you to model databases, generate test data, deploy scripts, and synchronize data and synchronize data structures.
Datanamic's solutions for Oracle deliver the functionality that database developers and administrators need to be more productive in an increasingly complex database environment. With enterprise-class functionality at an affordable price, our tools allow you to reduce the time and cost spent managing your complex database environments.
All our tools support Oracle versions 9,10 and 11. Oracle client software installation is not required.
Oracle Products
Product Suites
All Oracle products are also available as part of a bundle. Oracle is supported in all the editions of the
Datanamic MultiDatabase Suites
.