PostgreSQL Tools
Datanamic offers a comprehensive set of affordable tools to support the design, development, and administration of PostgreSQL databases.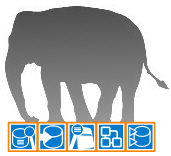 With Datanamic's PostgreSQL tools you can model databases, generate test data, deploy scripts, synchronize data and synchronize data structures. It are affordable, easy-to-use tools to simplify the manual and time-intensive tasks associated for developers working with PostgreSQL databases.
All our tools support PostgreSQL versions 8, 8.3 and 9.
PostgreSQL Products
Product Suites
All our PostgreSQL products are also available as part of a bundle. PostgreSQL is supported in all the editions of the
Datanamic MultiDatabase Suites
.