Visualize Structure Differences And Synchronize MS Access Databases
Key Features
Compare and synchronize the structure of MS Access databases
Visualize the differences between databases
Mapping of (renamed) database objects
Includes a command-line utility
MS Access version 2000, 2003, 2007 and 2010 are supported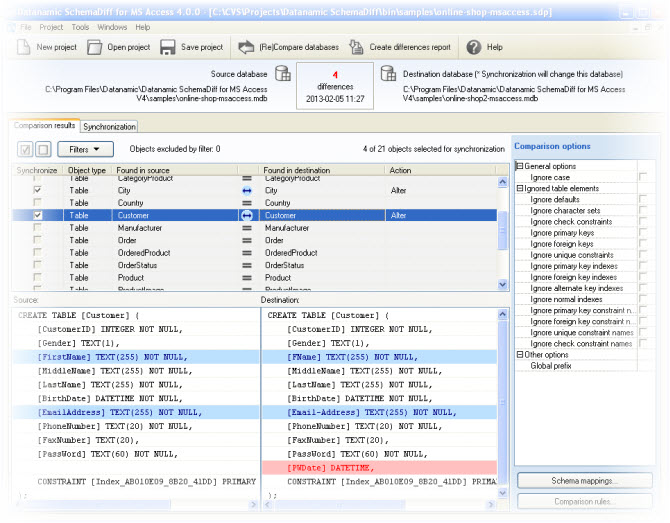 As a MS Access developer, you very often work with a test database from where you need to apply the structure changes to the production database. This can be a tough job when your database is complex; the chances of errors while propagating structural changes increases proportionally with the number of database objects (such as tables). Datanamic SchemaDiff for MS Accessis is the answer.
Datanamic SchemaDiff for MS Access enables you to compare and synchronize MS Access database structures. The tool will give you the full picture of all structure differences. Once your database schemas are compared, you can view the differences and let the application update the destination database and make it identical to the source database. A wide array of comparison options let you control how the comparison is done. A command line utility is included. With this command line utility you can further automate your database synchronization process.
Related Software

Datanamic DataDiff for MS Access
Data synchronizer for MS Access databases.

Datanamic DataDiff CrossDB
Cross database platform (for example: MS SQL, MS Access) data synchronization.