Data Modeling Tool for PostgreSQL Databases
DeZign for Databases is an easy-to-use database modeling and design tool for PostgreSQL databases. The software uses entity relationship diagrams (ERDs) to graphically design databases (ER Diagrams with IDEF1X notation or IE notation). You can visualize database structures to understand your database, create new databases or reverse-engineer existing PostgreSQL databases to modify, redesign, document, analyze, and optimize. DeZign for Databases improves your productivity and reduces faults in database development.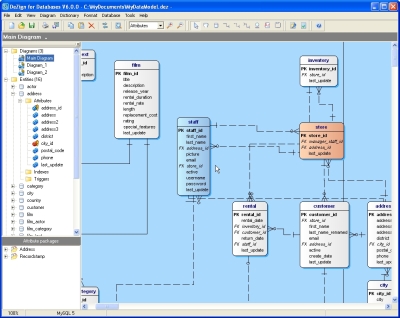 Audience
If you're a database designer, developer or DBA, you will benefit from the clarity of complex databases, DeZign for Databases brings. It serves as a communication tool and accelerates your processes by connecting the database modelers to the rest of the development team and business users.
Key Features
Visually Make a Design
Elements from data models are visually represented in ER diagrams using
industry standard design notations
. In your diagram you can visually make a design using entities, relationships, subcategories, group boxes and text blocks. The tool enables you to present your design at various levels of detail.
Database objects that are not part of the diagram (triggers, procedures etc) can also be editted and are stored in the same model.
Generate PostgreSQL Databases
DeZign for Databases can generate a database from a data model. From the model, PostgreSQL specific definitions (DDL) are generated for all database objects (tables, views, triggers, procedures, constraints, indexes etc).
Reverse Engineer PostgreSQL Databases
DeZign for Databases enables you to reverse engineer existing PostgreSQL database. You can reverse engineer PostgreSQL databases through a direct native connection or through a SQL DDL script. A subdiagram is optionally created per database schema.
Compare and Synchronize Between Model and Database
DeZign for Databases has synchronization and comparison utilities to keep your model and your database synchronized. The user loads a PostgreSQL database and compares the database with a data model. The tool displays the differences between the model and your database. Differences can be moved from model-to-database or database-to-model. If model changes move into the database then a database update script will be generated.
Generate Database Documentation
Visualization and publication are the keys to communication and collaboration in database modeling. DeZign for Databases offers customizable reporting and printing capabilities. You can generate professional documentation in MS Word, PDF or HTML formats. You can print out your diagram or export your diagram to an image file (gif, jpg, bmp, wmf).
Subdiagrams for Large Models
DeZign for Databases extends your modeling power with subdiagrams. A project is a set of one or more subdiagrams that contains the specification of an entire data model. You can break a large or complex model into smaller, easier to maintain subdiagrams.
Compare and Merge Models: Team Work
DeZign for Databases allows users to compare and optionally merge two versions of the same data model. After comparing two models, you can select which differences you want to merge. With this feature, development teams can work in parallel on a single model.
Multiple Database Systems
DeZign for Databases supports
multiple databases
. You can create target DBMS specific models or database-independent models (with portable data types). You can create a database-independent model when you want to output your model to more than one target DBMS. You can also convert your model from one database system to another. Editable data type and function conversion rules are used for the translation.
Supported PostgreSQL Versions
DeZign for Databases supports PostgreSQL 7, 8 and 9 databases.